You are here:
Home
1
/
Carpet Cleaning Biggin Hill
Carpet & Upholstery Cleaning in Biggin Hill
Located just beyond the urban sprawl of the capital Biggin Hill offers a respite from the hustle and bustle. Golf courses dot the surrounding landscape and there is even an airport for those who don't want to be bothered going all the way to Heathrow. Homes here tend to be spacious and comfortable and many of them have carpeting throughout. When residents need premium carpet cleaning in Biggin Hill they get on the phone and ring us at All Gleaming Clean.
The Art of Carpet Cleaning in Biggin Hill
Anyone can rent a wet vac at the home centre and claim to be a carpet cleaner. But when it comes to cleaning carpets today, that's just not enough. In the past, most carpets were fashioned from wool. Today, however, a plethora of materials are used including nylon, polypropylene, polyester, acrylic, silk, and wool of course, as well as other natural fibres including seagrass, jute, sisal, coir and more. Each one of these fibres requires a specific type of care, and anyone who thinks they can just attack them all with a wet vac is in for a rude awakening, as is their customer.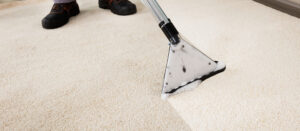 More Than Just Aesthetic Considerations
People get their carpets cleaned because they want them to look good. And that's perfectly understandable. But being cleaned is just not enough. They need to be cleaned properly, because if the wrong technique is used it could destroy the carpeting. For example: if the guy with the rented wet vac uses too much water (a common mistake among those not properly trained) the moisture left behind in the carpet can become a breeding ground for bacteria that leads to respiratory problems in your loved ones. As if that's not bad enough, having the carpet cleaned by someone who is not properly trained could void the warranty on the carpet as well, meaning you'll have to pay out of pocket to replace it.
Trust the Pros at All Gleaming Clean
When your carpets are properly cleaned every aspect of your home benefits. Your decor has a chance to shine, foul odours that may have been emanating from the carpet are eliminated, allergens that settled into the carpet are removed making the house a healthier place, and let's not forget that properly cleaned carpeting just feels great underfoot. So don't gamble with your Biggin Hill carpeting. Call All Gleaming Clean on 01959 700205 and take full advantage of our expert service and competitive rates.
Tom did an absolutely fantastic job cleaning our carpets. Everything was done in a timely and professional manner, I would recommend him!
James Harbour
West Wickham
First class service – delighted how my carpet looks. They got rid of the stains. It looks great.
Not the first time I have used this company and as usual I am delighted with the results. Excellent service. I would recommend.
We Cover Nearby Locations:
No Obligation, Free Trial
When we come to do your cleaning, we'll clean a small area and show you the results. If, for any reason you're not happy, we'll leave, and the cleaning is free!
Free Quote with 15% Off
We don't charge for coming out to give you a quote. We'll test your carpets to determine the best way to give you great results and give you a written quote that includes a 15% off introductory offer.
Fast Drying
Our carpet and upholstery cleaning service gives very fast drying results,. This means that even if you need your carpets back in use quickly, we can do it!
About All Gleaming Clean
All Gleaming Clean is a family run business, established in 1989. We believe we have the edge over our competitors because AGC offers a reliable and friendly service, often at short notice. We also provide a personal service that many of our larger competitors cannot achieve.
Quality Guaranteed