Patio and Decking Cleaning Services Bromley
Patio and decking slabs can get grimy and dirty throughout the year, making it important to do regular cleaning.
Keeping your patio or deck spotless does not have to be a chore. We offer professional patio and decking cleaning in London and beyond. We restore paving stones to their original beauty, give decking a full makeover, and bring ornate paved areas back to life.
Focused on Customer Satisfaction
When you work with us, you will find that we are not just another cleaning company. We have a solid reputation across London, Bexley and beyond, and have customer recommendations to prove that our service is up to standards.
Our process begins with a thorough inspection of the area, identifying the problem areas and existing stains. This allows us to focus on the problem areas and make the patio or decking ready at a moment's notice to entertain.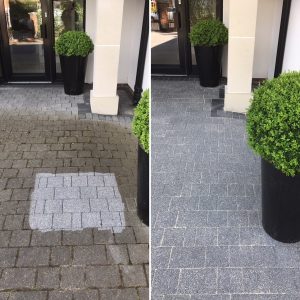 Advanced Pressure Jet Washers
We use highly advanced pressure jet washers to blast away grime. The equipment sprays cold water under extremely high pressure through a flat surface cleaner or a special nozzle – and from the experience of our past clients, the results are amazing. Using high-pressure water and vacuum alone instead of adding soap, we leave nothing behind but pristine surfaces safe for pets and children, and surfaces that stay that way for many months to come.
We can eliminate grit, grease, grime, vegetation slime, tyre marks, oil stains, tree sap, algae, mould and even bird droppings.
No Overspill or Contamination
Our technology and process are so flexible we can use them anywhere. Our method is also advanced, allowing for little to no overspill or contamination of any adjacent surface, such as a swimming pool. We ensure maximum protection of your patio and decking surface.
Eliminate the need for elbow grease and save time cleaning away dirt, grime and pollutants in your patio and deck with All Gleaming Clean. Call us today.
Free Decking and Patio Cleaning Evaluation