Upholstery cleaning services in Bromley
We only use truck mounted systems to clean upholstery, a system that is over 20 times more powerful than the average portable cleaning system.
A truck mounted unit offers deep steam cleaning and quicker drying times. The unit is totally self-sufficient, eliminating the inconvenience of reliance on hot water and electricity supply. There is no bulky equipment to bring to your home; only the hoses and wand, which means we work faster.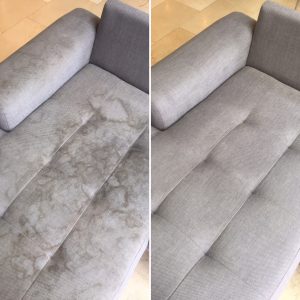 The system recovers 98% of the moisture, compared to only 50% from portable units, and all residual odours and dust mites are pumped back into the truck, instead of being left to circulate through your home, benefitting asthma, allergy and hay-fever sufferers alike. We work on a minimum 0f 90% improvement to your carpets and upholstery, if this is not achievable, we will inform you before we begin work.
We provide free stain removal and deodorisation included in our pricing. The unit has enough hosing to go up to 20 storeys, if necessary.
We undertake both domestic and commercial work.
An Upholstery Cleaning Service You Can Depend On
At All Gleaming Clean, we bring the same sense of dedication and commitment to both our carpet and upholstery cleaning services. Our only goal is 100% customer satisfaction and we refuse to settle for less. It's what drives us to excel and helps explain why we are one of the fastest-growing upholstery cleaning services in South London.
We clean all types of upholstered furniture including sofas, chairs, ottomans, bench seating, outdoor patio furniture and more. In addition, we offer a peerless leather upholstery cleaning service that restores your fine leather furniture to a supple, agreeable state that will breathe new life into it. You can be absolutely certain that all processes we employ are safe and effective and will not do anything to undermine the integrity of your precious upholstery.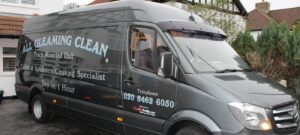 The Benefits of Our Truck Mounted Cleaning Service
The truck-mounted cleaning apparatus is a truly revolutionary development that provides unparalleled levels of cleaning power, while at the same time minimising the impact to your interior during the upholstery cleaning process. This system enables us to routinely achieve levels of cleanliness that would be considered out of the question with a traditional rented steam cleaner.
Because the system removes a full 98% of the water used in the cleaning process your upholstery dries in just a fraction of the time it would otherwise take. This is a massive benefit if you are doing a last-minute touch up of the furniture prior to a party or a big family get-together during the holidays.
Because the system evacuates all dirt and wastewater directly to a tank in our truck the possibility of an accident during the cleaning process is also virtually eliminated and final cleanup by our onsite technician takes only a few minutes. When you add all these things together you get a new kind of upholstery cleaning service that makes previous cleaning methods fully and thankfully obsolete.
Get in Touch With All Gleaming Clean
We work hard to build a level of trust with our clients and are proud of the fact that so much of our business comes to us from customer referrals. That same level of dedication and the same attention to detail are the driving forces behind our fabric and leather upholstery cleaning service. Try us once and you will see why so many of our South London customers won't trust their upholstery to any other company.