You are here:
Home
1
/
Carpet Cleaning South Croydon
Carpet Cleaning South Croydon
The folks in South Croydon value their peace and quiet, but are also fans of efficiency and convenience. Witness the fact that their town is one of the most hospitable in all of South London, while at the same time being just a 20-minute ride on the Southern Line from the centre of the capital. It's no wonder then that the people here turn to All Gleaming Clean for carpet cleaning in South Croydon. We set the standard for excellence and cost-effective convenience other carpet cleaners aspire to.
No Nonsense Carpet Cleaning in South Croydon
There are a lot of individuals and companies advertising carpet cleaning services these days. Most of them will show up at your door short on experience and toting a wet vac they leased from the local home centre. It's possible they might leave your carpets looking better than when they started. But it's equally likely they'll use too much water and leave your carpeting a soggy mess that takes a whole day to dry and becomes a breeding ground for mould and bacteria.
That won't happen when you enlist the services of All Gleaming Clean. We employ a revolutionary truck-mounted cleaning system that keeps most of the cleaning apparatus outside. The system minimises the use of water, and 98% of the water that is used is removed from your carpeting and returned to a waste disposal tank inside our truck. Your carpets dry fast and don't become a breeding ground for microbes that could cause foul odours or allergic reactions.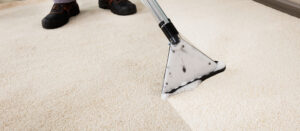 Clean and Hygienic Carpets
Our South Croydon customers call us because they want to return their carpeting to a like-new appearance, and we can certainly do that. But these days they have other considerations as well. They want to make sure their carpeting does not play host to malicious microbes, including the coronavirus, and that their loved ones and pets are completely safe when they play or rest on the cleaned carpeting. Our low-moisture, truck-mounted system helps ensure that your carpets are as hygienic as they are clean.
Get in Touch with AGC
If you want to ensure your home's interior is always as clean and hygienic as can be, call the pros at All Gleaming Clean today. We provide fast, effective carpet cleaning for less than you expect. Give us a call today on 01959 700205 to arrange an appointment. You'll be glad you did.
Tom did an absolutely fantastic job cleaning our carpets. Everything was done in a timely and professional manner, I would recommend him!
James Harbour
West Wickham
First class service – delighted how my carpet looks. They got rid of the stains. It looks great.
Not the first time I have used this company and as usual I am delighted with the results. Excellent service. I would recommend.
We Cover Nearby Locations:
No Obligation, Free Trial
When we come to do your cleaning, we'll clean a small area and show you the results. If, for any reason you're not happy, we'll leave, and the cleaning is free!
Free Quote with 15% Off
We don't charge for coming out to give you a quote. We'll test your carpets to determine the best way to give you great results and give you a written quote that includes a 15% off introductory offer.
Fast Drying
Our carpet and upholstery cleaning service gives very fast drying results,. This means that even if you need your carpets back in use quickly, we can do it!
About All Gleaming Clean
All Gleaming Clean is a family run business, established in 1989. We believe we have the edge over our competitors because AGC offers a reliable and friendly service, often at short notice. We also provide a personal service that many of our larger competitors cannot achieve.
Quality Guaranteed