Professional Drive Cleaning Services in Shirley
The drive is the introduction to your property. Its look influences the impressions of guests and passers by but keeping your front drive clean can be a struggle.
All Gleaming Clean is here to help. We clean and restore all types of drives, be it concrete, natural stone, granite or tarmac. Whatever the surface is, we can clean it.
The benefits of our services
Your drive is subject to a lot of wear and tear over the years. It accumulates all kinds of grease, gas spots, moss, algae others bits of debris and blemishes.
A simple splash of warm water and scrubbing won't rid your drive of these stubborn eyesores. All Gleaming Clean's experts can clean up spills and remove moss that build up over time. With our equipment and techniques, we will erase the dirt from your driveway and leave it truly clean.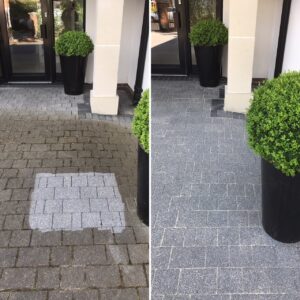 The latest driveway cleaning equipment
We know how time-consuming it is to clean driveways on your own. Most of the time, it's just painstakingly difficult to rid it of the dirt that has accumulated.
With our services, you won't have to get down on your knees and scrub impossibly hard stains from your drive. You can make an appointment with us at a time convenient for you and we will clean your front drive as soon as possible.
For fast and efficient cleaning, we use innovative truck-mounted systems that are easy to control and manoeuvre. They remove most oil stains, weeds, slippery algae and unsightly tyre marks.
Customer satisfaction is our main priority
Having your drive cleaned doesn't have to cost a fortune. At All Gleaming Clean we care for our customers and we deliver excellent results at reasonable prices.
From a business standpoint, we know that doing our job well means recommendations that will bring in new customers. But the real satisfaction comes from knowing that we leave clients happy with their spot-free drives.
Let us bring your front drive back to life. Contact All Gleaming Clean today.
We serve:
Beckenham
Bromley
Kent
London
West Wickham