Highly Effective Driveway Cleaning in Bickley
We offer competitively-priced driveway cleaning services in Bickley and the surrounding area, covering all types of surfaces. Whether you have a concrete, asphalt, natural stone or brick-paved driveway, our experienced cleaning technicians can blast away all traces of algae, moss, tyre tracks and oil spills in a short space of time. All you need to do is to call and make an appointment for our team to visit your home and we will take care of all the details. Our team will come to your property equipped with powerful jet washing machinery and the most environmentally-friendly, highly effective detergents available, ensuring that your driveway will be gleaming by the time we have finished.
Powerful Driveway Cleaning in Bickley and the Surrounding Area
While it may be possible to scrub away a few of the marks that are currently spoiling the appearance of your driveway, most of them will be too deeply embedded in the surface to be removed with a quick scrub. However, with our powerful, truck-mounted pressure wash machines, we can make short work of all types of stains, no matter how permanent they may seem to be. Don't waste time and energy trying to scrub persistent oil stains and tenacious moss from your driveway: let our team of specialists wash everything away for you.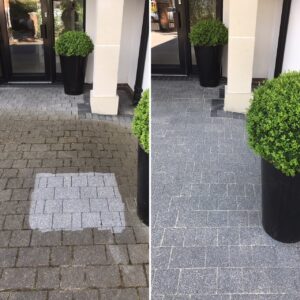 Affordable Driveway Cleaning in Bickley
Our driveway cleaning services are not only the most effective in the area, they are also among the most competitively priced as well. If you would like to find out just how little it will cost to have your driveway in Bickley professionally cleaned by our experienced technicians, please feel free to call and request a quotation during business hours or to send us an email requesting a call back at any time. We guarantee you will love our prices and be delighted with the service you receive.
We serve:
Beckenham
Bromley
Kent
London
West Wickham