Professional Driveway Cleaning Services in Orpington
Curbside appeal is important as it makes a great first impression. However, when it comes to home maintenance, cleaning the driveway on your own can be a struggle.
At All Gleaming Clean, we provide professional driveway cleaning services in Orpington. We clean and restore all types of driveways, from concrete and brick paving to natural stone and tarmac. As long as it is a flat hard exterior surface, our team of professionals can clean it and leave it looking new.
The Benefits of All Gleaming Clean's Services
Over time, your drive is subject to a lot of wear and tear. It accumulates all kinds of oil, grease, algae, lichen, moss and other bits of debris and blemishes.
A bit of scrubbing with soapy water won't rid your front drive of these stubborn eyesores. With All Gleaming Clean's team of experts, its innovative techniques and top of the line equipment, we can clean up spills and remove moss built up over the years. For fast and efficient cleaning, we use advanced truck-mounted systems that are easy to control and manoeuver. They remove most oil stains, unsightly tryre marks, slippery algae and weeds.
At All Gleaming Clean, we will polish your driveway and leave it truly clean and pristine. Call us at a time convenient to you and we will get the job done quickly and efficiently.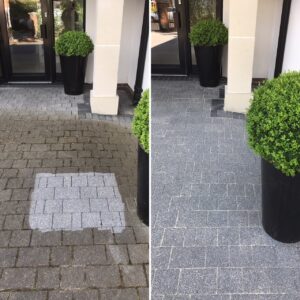 Unparalleled customer satisfaction
All Gleaming Clean understands the difficulty in choosing a driveway cleaning team. There are many unqualified cleaning companies that promise services at unreasonable prices. All Gleaming Clean is different. We are a business that prioritises our customers' needs, delivering excellent results at the best rates.
Exceeding your expectations is our main priority. We know that doing our job well results in recommendations that will bring in new customers. But for us, the real satisfaction comes from knowing that our clients are happy with our service.
Call All Gleaming Clean on 020 8462 6050 and request a free quote today.
We serve:
Beckenham
Bromley
Kent
London
West Wickham