Effective, Efficient Driveway Cleaning in New Addington
The driveway has a huge impact on your home's kerb appeal. If the driveway is beset by years of dirt, grime, oil stains, and algae growth it will diminish the way the entire property is perceived. Even if you are meticulous in maintaining the garden and house itself, a dirty drive will get all the attention, like a white shirt with a food stain on it. At All Gleaming Clean, we provide an affordable, professional driveway cleaning service that frees your driveway from years of accumulated grease and grime.
Driveway Cleaning in New Addington Done Right
It's not enough to spray the driveway down with the garden hose. It's not even enough to bring in the power washer and have a go at it. To get a dirty driveway truly clean, especially one constructed from pavers, you need our multistage, truck-mounted process. Our technicians apply a combination of proprietary, environmentally-friendly detergents, state-of-the-art technology, and good old fashioned elbow grease when necessary to return your driveway surface to a pristine or near-pristine state. Any estate agent will tell you that kerb appeal has a direct impact on your property's valuation. Therefore, when we're done with your driveway, your New Addington home will not only look more valuable, chances are it will be more valuable.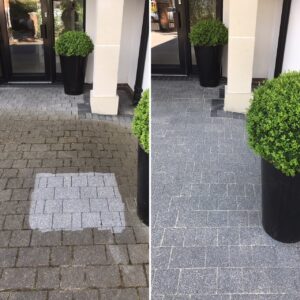 No Driveway Too Dirty
The industry-leading results we achieve on our clients' driveways is the consequence of years of product development, research, and real-world experience. We're constantly refining our process in order to provide our customers with the best possible product. Whether your driveway is a patchwork of oil stains and tyre marks, or a mosaic of algae, weeds, and accumulated dirt and grime, we have the experience and expertise to turn back the clock and shave years off of its appearance.
Whatever your driveway is fashioned from, be it poured concrete, stamped concrete, tarmac, interlocking pavers, or even cobblestones, we have the tools and the training to bring it back to life. If your driveway is reflecting poorly on your New Addington home don't waste another day ruing it. Call the professionals at All Gleaming Clean on 020 8462 6050 for a free quotation.
We serve:
Beckenham
Bromley
Kent
London
West Wickham