Affordable Driveway Cleaning for Croydon Homes
While we take the driveway for granted today it is actually a fairly new phenomenon. Most homes constructed before the mid-20th century did not have driveways. The ones that did were usually large manor houses and the driveway was used to allow horse-drawn carriages to discharge people at the front door. These days driveways are a given, even on small lots, and keeping them clean is essential. Not just because it's a good habit to get into, but because the driveway has a huge effect on your home's kerb appeal. At All Gleaming Clean, we make all types of driveways sparkle.
Driveway Cleaning in Croydon Boosts the Value of Your Home
A dirty, grease-stained driveway can undermine the appearance of even the most meticulously maintained house. That's important because studies indicate the external appearance of a house can affect its value by anywhere from 5-10%. As such, with the average value of a home in Croydon currently standing at just over £360,000, it means a dirty driveway can potentially knock £18,000 to £36,000 off the market value of the average home. Whether your driveway is fashioned from concrete, tarmac, asphalt, brick, interlocking block pavers or some combination thereof, we can remove years of grime and elevate the appearance of your entire property.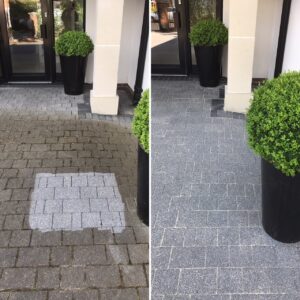 Every Driveway Deserves a Second Chance
Bringing a driveway back to life is no easy task. It takes the right people with the right experience and the right tools. At All Gleaming Clean, we have spent years refining our process and keeping our eyes and ears open to new technologies and treatments. Our technicians are rigorously trained and always apply the most effective techniques for cleaning different driveway surfaces. If a particular surface can be cleaned, we will clean it. If a particular stain can be removed, we will remove it. It's that simple.
Call Today
There's no need to let a dirty driveway undermine the look and value of your Croydon home. And, in many cases, there's no need to replace a shabby looking driveway either. Sometimes, all it needs is a good cleaning. Contact All Gleaming Clean on 020 8462 6050 and give your driveway a second chance.
We serve:
Beckenham
Bromley
Kent
London
West Wickham