All Gleaming Clean's driveway cleaning service is now available in Hayes!
We are a family-run business dedicated to providing excellent drive cleaning service. Anyone in Hayes can now have that gleaming clean drive without the back breaking graft of cleaning it themselves.
Your driveway is a reflection of your home
A clean, spotless driveway always creates a good first impression. It is the first thing a guest or client sees when visit your home or place of business.
We know everyone wants to have a clean driveway. But for a home full of driven, busy individuals, let's face it, who has the time?
Our team of professionals has! At All Gleaming Clean, we make sure your driveway reflects the kind of home you have — open, welcoming and polished.
 Why Hire All Gleaming Clean?
Our team of professionals helps restore and preserve different types of driveways. We use advanced equipment to remove ugly tyre marks, weeds, algae and oil stains, ensuring the high-quality cleaning your driveway deserves.
We also make sure to do the job quickly and efficiently, causing you least amount of disruption as possible. Book an appointment with us and we will schedule a clean for you.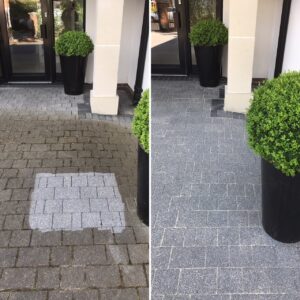 Not in Hayes?
Don't worry! We also offer cleaning services in Bromley, Kent, Sidcup, West Wickham, Orpington, Chislehurst, Shirley, Bexley and London.
Not looking for driveway cleaning services?
Maybe we can help you in your other cleaning service needs. We also provide carpet and upholstery cleaning, hard surface cleaning and patio and decking cleaning.
Our company's commitment
Here at All Gleaming Clean, client satisfaction is our number one priority. We are a business that cares for our clients, delivering excellent results at reasonable prices.
Whatever your cleaning service needs are, give us a call and we'll sort it out. Contact us today.
We serve:
Beckenham
Bromley
Kent
London
West Wickham